Laser Nail Fungus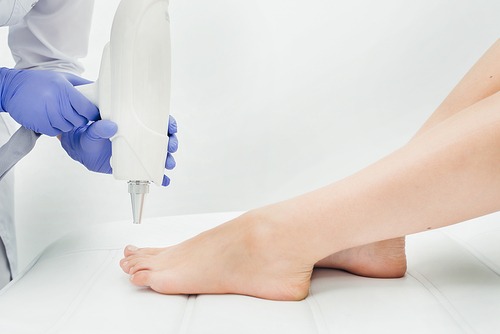 Nail fungus or onychomycosis is a commonly occurring condition characterized by white or yellow spots under the fingernail tips or toenails. The fungal infection can quickly spread deep within the nail if not treated in a timely fashion. It can result in conspicuous cosmetic concerns. Oral or topical anti-fungal medications may not do anything more than providing temporary relief. Nail fungus may also recur after such treatments.
You can get rid of nail fungus with laser treatment at a qualified med spa. The treatment has minimal risk of recurrence and is safe and effective. However, the treatment should only be performed by experts under the supervision of experienced physicians.
Fotona's ClearSteps Onychomycosis Treatment
This is a cutting edge treatment involving the power of laser energy for treating nail fungus. Controlled laser beams in this treatment are used for penetrating the infected nail and skin tissue. It provides even heating throughout the targeted area. Parasitic fungi are eliminated by heat energy that may create the nail infection.
Laser treatment process at the same time promotes natural immunity and growth factors that activate the nail and restore it to its original appearance and health. Onychomycosis treatment helps in creating long lasting effects. It is more effective than oral and topical treatments. It also avoids side effects at the same time that are often associated with oral drugs for fungal infections.
Laser Treatment vs. Other Options
Laser med spa treatments are known to be more effective as compared to other methods of treating onychomycosis. The infection can be treated with oral antifungals and topical antifungal medications. There is prescription as well as over the counter options.
Systemic side effects can be caused by oral antifungals which are really not completely effective in curing onychomycosis. Topical treatments are generally safe, but not that effective. Laser is the most successful option for treating nail fungus.
Signs of Improvement
Some people may notice improvements with a single treatment. However, additional sessions may be required in other patients. This depends on the kind of results delivered. These are common signs of improvement:
Resolution of flaky debris under or on the nail
Disappearance of white, yellow, or brown spots
Recovery from onycholysis
No more altered nail shape with normal texture and shape of new nail growth
Laser Procedure Steps
Following steps are involved in the nail fungus removal procedure. The procedure is performed as an outpatient treatment.
Infected nail will be filed down by the treatment provider for ensuring laser energy penetrates thoroughly in the targeted area
Controlled laser pulses are administered in a circular manner above the affected surface area with precision
The laser technician will finally focus the energy around the infected nail bed and skin tissue perimeter
For More Information on the Treatments and Procedures Offered, contact award winning Board Certified Plastic Surgeon Dr. Thomas Fiala at Fiala Aesthetics in Greater Orlando to Schedule Your Consultation:
Serving patients in and around Greater Central Florida: Orlando, Altamonte, Lake Mary, Maitland, Winter Park, Clermont, Casselberry, Lake Mary, Longwood, Celebration, Heathrow, Windermere, Dr. Phillips, Sanford, Deltona, Deland, Daytona Beach, Melbourne, Cocoa Beach, New Smyrna Beach, Tampa, Jacksonville, Sarasota and more.
Voted the #1 Best Plastic Surgeon in Orlando, Florida by the readers of Orlando Magazine.